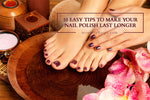 10 Easy Tips to Make Your Nail Polish Last Longer
There is nothing worse than walking out of a manicure and pedicure spa with fresh nail polish only to find it chipped or peeling in a few days' time or worse, at the end of the day. Of course, nail polish does not last forever, but it can be unfortunate to see that exquisite polish be so fleeting. After getting a beautiful nail polish design, you should not be concerned about it coming off when washing a few dishes the next day. 
In this post, we have rounded up several helpful tips on how to make nail polish last longer. While some may seem simple enough, they go often overlooked. 
How Long Does Your Nail Polish Last?
Before we dive into our list, we need to address the most basic and apparent concern that has plagued so many people: how long does nail polish last without chipping?
The answer to this question is: it depends. There are several factors that affect the longevity of nail polish. Not only does it depend on how you take care of the nail polish but also on the quality and formula of the polish used. Regular nail polish products typically last for a couple of days without chipping. On the other hand, gel nail polish and other long-wear formulas have a longer staying power, which last up to 2 weeks before they start to chip or peel off. 
Best Ways to Make Nail Polish Last Longer
One thing is for sure — you are here because you want to learn the techniques that will make your nail polish last longer. Here are some easy tricks that will keep your nail polish in excellent condition for days, or even weeks.
Before getting your nails polished, make sure your nails are thoroughly cleaned. It helps the nail polish last longer and ensures a great nail polish job. In addition to dirt, the natural oils on your nails can prevent the colour from adhering to your nails, causing them to easily chip or flake. Also, applying nail polish on dirty nails can result in mild discolouration.
Use a quality nail polish remover to remove the old polish and wash your hands thoroughly with soap and water to get rid of dirt and oils. Be sure to pat your hands dry to remove moisture on your nails.
Did you know that apple cider vinegar helps boost the staying power of your nail polish? After washing and drying your hand, apply a small amount of apple cider vinegar on a clean cotton ball and rub it thoroughly over your nails. Leave it for about 10 minutes to dry naturally before you proceed. The acidity of the vinegar allows the polish to cling to the surface of your nails longer. While it may give off a vinegar-y smell, the scent will eventually go away. The application of apple cider vinegar can help your nail polish last for at least 2 weeks. 
Women love growing their nails, but long nails can prevent you from enjoying a well-polished manicure. On the other hand, applying nail polish on short nails tends to last longer as they are less likely to get knocked into things, making them less prone to chipping or peeling. Fun nail polish designs or bold colours can definitely spice your short nails. 
Avoid getting polish on your cuticles
Getting nail polish on your cuticle or skin can lead to premature chipping or peeling. The polish is less likely to stick to the skin. When it starts to peel off, it takes the polish on your nails, too. To remove the polish on your cuticles, apply nail polish remover on a cotton swab and carefully clean the polish off the perimeter of your nails.
Applying a thin, clear base coat helps prepare your nails for the big polish job. A quality base coat provides the polish with an ideal surface that enables it to adhere well to your nails, giving it a smoother result. After application, leave it for at least 15 minutes to dry. 
Avoid heavy application of nail polish colour of your choice as it prevents the polish from drying properly. Also, heavy coating can trigger bubbles to form in nail polish. Proper nail polish application is a tedious process, so take time to apply a thin, light coat and allow it to dry naturally. To ensure the best results, brush the polish horizontally. Start at the base of your nail and carefully work your way across the tips of each fingernail. 
Use nourishing, conditioning polish
Nail polish is not likely to last on weak and brittle nails. Breaking and splitting can cause the lacquer to chip or peel. If your nails are weak and brittle, make sure to use nail polish products (this goes for top coats, base coats, and pigments) that contain nourishing and moisturizing ingredients to ensure it stays on your nails longer. Avoid using products containing formaldehyde, toluene, camphor, and other drying chemicals. 
Allow your polish to fully set
Most nail polish often takes about 7 to 10 minutes to dry. However, avoid flailing your fingers right after the manicure session. Give the nail polish more time to fully set before digging into your tote or putting on your shoes. 
Some customers use a dryer (like a fan or a hairdryer) to dry the polish faster. Choose the latter but be sure to set it on cool. Using heat to dry the polish can trigger the formation of bubbles, making it more prone to chipping. Expert nail technicians recommend drying the polish with cool air. Not only does it speed up the drying time but also prevents the surrounding skin from drying out. 
Avoid soaking your nails for a long time
Submerging your hands in water for a long period of time can cause the moisture to seep beneath the surface of the polish. This result in premature peeling and flaking. Your nails have several layers that can absorb water. Soaking your fingernails in weather or taking a long, hot bath causes them to expand. When your nails become dry, they contract. Expanding and contracting can cause the polish to chip easily, ruining your manicure.
Do not just settle for cute and cheap nail polish colours as they easily peel off and do not last long. Invest in the best nail polish services offered at a trusted Oakville nail boutique like Monterella Boutique & Spa.
Step into luxury and pamper your nails at our spa. Our professional nail technicians can make your hands and feet look fabulous using premium quality nail care products. Call us at (905) 844-4343 to book an appointment.