Rejuvenate, Refresh! — Spend a Day at the Spa!
Embark on a journey towards health, beauty, and well-being by booking a luxury spa getaway at Monterella Boutique & Spa. With us, you can experience a full day of complete pampering and utter relaxation. We offer an extensive list of amazing spa packages that you can take advantage of. Our experienced and highly skilled team will make sure to curate the best combination that's just for you. No matter the event or occasion, we make sure to give you the best day at the spa.
Now available online
Yon-Ka
Feel Your Best With Our Ultimate Beauty Spa Treatments
Monterella Boutique & Spa is one of the best beauty spas in Ontario. Our facility combines luxury and elegance with a laser focus on beauty and wellness to provide you with unsurpassed spa services. Take advantage of our offers:
Facials
Facials are luxurious treatments tailored to fit your skin's needs. They do more than cleanse your skin and treat blemishes and acne, they can also prevent signs of aging while reducing stress and anxiety levels. We use premium products to hydrate and tighten the skin (collagen), exfoliate (chemical peels), nourish and rebalance (extracts and essential oils), and protect the skin from free radicals that contribute to aging (vitamin C).
Waxing
Waxing comes with a variety of benefits. For one, hair does not regrow as quickly, and when it does, it's finer than it originally was with less likelihood of ingrown hairs. You will also avoid itching, razor burn, and cuts.
Laser Treatments
Remove unwanted hair and stop hair growth in its tracks with laser hair removal. This quick and relatively painless procedure is a long-term solution that uses the precision of laser technology to remove hair while preventing regrowth and ingrown hairs.
Hand & Foot Therapies 
Our mani & pedi regimen caters to more than just your nails, we also offer treatments like spa pedicures that give your hands and feet the extra care and pampering they need. 
Latest news and offers
Give the gift of indulgence this Christmas with Monterella Boutique & Spa's luxurious services—because everyone deserves a touch of pampering and joy this holiday season!...
Indulge in December's glow-up with our exclusive promo! Treat yourself to a rejuvenating deep cleansing facial, leaving your skin radiant and refreshed. Complete your pampering...
Experience Unparalleled Pampering at the Best Beauty Spa Near You
At Monterella Boutique & Spa, we deliver results. Known for the consistency of our services, we provide reliable care that ensures your comfort and satisfaction every time. We work with the highest quality skincare line and cutting-edge beauty technology.

We take pride in what we do and keep up with the best and latest trends and equipment to provide our clients with a lush experience. Our boutique has a stellar reputation that can only be gained through passion, first-rate products, and exemplary service.

If you're looking for the best spa near you, we are at your disposal. Book an appointment or a free personalized consultation; call us at (905) 844-4343.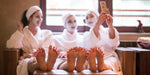 Book your private spa event
A private party is a great way to celebrate any special occasion. Bridal shower, birthday party, a staff social or sales reward, or just to get together with friends and relax.
We are now accepting bookings for a maximum of 4 guests. Our staff will take care of you and your party. All you need to do is select your services and relax!
Testimonials
"Best spa experiences ever at Monterella, have been to many of what are supposed to be 'elite' spas but none can top the ladies at this spa."

Cookie Paquette

"This spa is the best I ever tried, it has the best team and the very best products. They care so much about quality towards product, perfect environment and the relaxation of the clients. Is more than a Spa. Blessings to both of you."

Marcela Bosch

"Edyta provided me with the most wonderful relaxing facial with her NuFace machine. The difference was noticeable enough that people commented on my glowing skin. It was the best facial of my life and I cannot wait to return for another one. Santa, are you listening? I have been a very good girl this year."

Darlene Watts
Plan your visit
Our Spa
92C Dunn Street
Oakville, Ontario
L6J 3C7
Tues - Fri, 9:30am - 6pm
Saturday, 8:30am - 5pm
Sunday & Monday - Closed
Get directions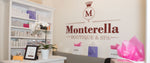 Our Spa
Plan your visit
92C Dunn Street
Oakville, Ontario
L6J 3C7
Tues - Fri, 9:30am - 6pm
Saturday, 8:30am - 5pm
Sunday & Monday - Closed
Get directions