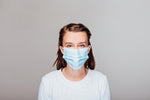 COVID-19 Protocols & Updates
Please arrive with a mask. Arrive on time and on your own, our waiting area will not be available. Please do not bring friends who do not have appointments, or children. Once you have let our receptionist know in person that you have arrived, please wait outside or in your car until your station has been sanitized and is prepared for you. We will call you when we are ready to begin. There is a standard COVID questionnaire to be filled out and we will take your temperature.
During the first phase of our opening we are not permitted to do ANY facial treatments. This means no facials or facial waxing. We are allowed to do body treatments, body (non facial) waxing as well as all nails.
Please note our prices will have a slight increase over this time. Service prices will be updated on our website to reflect this shortly.
We are doing our best to keep our staff and clients safe, thank you for bearing with us over this time.
Please read below for additional instructions and information:
We will be limiting the number of customers (and staff) in the spa.
Masks are a must! All our staff will be wearing masks and/or possibly head visors. (visors will need to be tested for condensation).
We will use a contactless thermometer to check temperatures of both customers and staff. Any team member or client with a temperature above 99 degrees F will unfortunately have to rebook their appointment at a later stage.
Our staff have just completed the official COVID-19 BARBICIDE CERTIFICATION written for the pandemic. We will be following new sanitization guidelines, which include cleaning and sanitizing throughout the shop and between each appointment. That includes; tools, products, chairs, counters, etc.
We will be sanitizing every surface after each appointment.
Unfortunately no food, drinks or magazines will be provided at this time.
We request that you leave all bags with the exception of your purse in your car. Please leave your jewellery at home as well if we are doing your manicure.
We love hugs and handshakes however we will need to limit contact as much as possible over this time.